Description
Dogon electric counterbalance forklift 1.6 ton for sale. The 1.6 ton electric forklift truck supplied by Dogon is light duty, safe and reliable. The counterbalanced electric lift trucks are carry out loading, stacking and horizontal transport functions in diffirent working systems.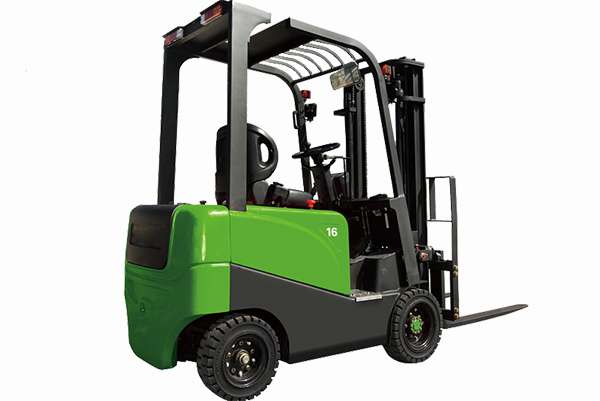 Our counterbalance electric forklift trucks have various specifications and models, among which 1 ton forklift trucks are very popular. And the electrci pallet stacker is also hot-sale products in the market.
Product description
Adopt excellent electric motor control, strong power and simple structure, and reduce energy consumption by 20%;
Select lithium iron phosphate battery, each unit has BMS management and protection device to ensure the use of lithium battery, high voltage design, increase power utilization efficiency;
The exposed parts are made of environmentally friendly overall stamped metal materials;
Intelligent sensing of descending buffer, when the fork is 100-60mm away from the ground, the descending speed will automatically slow down, so that the goods and pallets do not hit the ground;
The new large-screen LED instrument has good visibility, intuitive reading and friendly human-computer interaction interface;
Regenerative braking: when the forklift stops, decelerates, reverses direction and descends slopes, the drive motor becomes a generator, and the battery is reversely charged through the controller to save energy;
The full-view mast and fork frame ensure the operator a good operating field of vision.
High strength roof guard.
Optional: The battery is removed from the side, and the battery does not need to be lifted from the gap at the top of the roof guard. It is convenient and quick to replace the battery. It is suitable for heavy-duty, continuous work and other high-intensity conditions.
According to the ergonomically designed steering wheel, the inclination angle can be adjusted up and down, the seat can be adjusted forward and backward by 150mm at the same time, and the operator can choose a comfortable driving position.
The optional lithium battery is guaranteed for 5 years or 10,000 hours.
1.6 ton electric counterbalance forklift dimensions
| | |
| --- | --- |
| Model | CPD16 |
| Rated Capacity (kg) | 1600 |
| Load center distance (mm) | 500 |
| Power mode | Battery |
| Tyre type | Solid |
| Max. Lifting height (mm) | 3000 |
| Free lifting height (mm) | 40 |
| Mast tilt angle front/rear | 4°/8° |
| Length (fork exclude, mm) | 1970 |
| Width (mm) | 1100 |
| Mast height (mm) | 1960 |
| Overhead guard height (mm) | 2110 |
| Min. Under clearance (mm) | 130 |
| Wheel base (mm) | 1260 |
| Min. Turning radius (mm) | 2100 |
| Travelling speed loaded/unloaded (km/h) | 13/14 |
| Lifting speed loaded/unloaded (mm/s) | 260/300 |
| Gradeability loaded/unloaded (%) | 15 |
Motor & Battery
Motor
Drive motor power (KW)
5.5
Pump motor power (KW)
4.0
Battery
Voltage (V)
48
Lithium battery capacity (Ah)
225
Lead-acid battery capacity (Ah)
230
Note:Performance can be customized according to customer needs.
Product features
Zero emission, no pollution
Low noise, quiet and comfortable operation
High efficiency and energy saving, ultra-low power consumption, long service life
The vehicle is compact and simple in appearance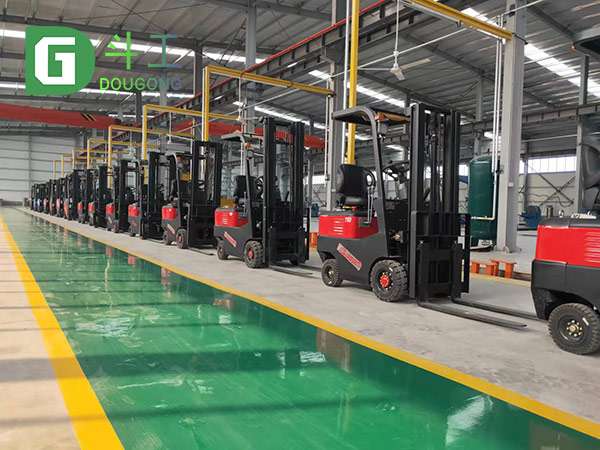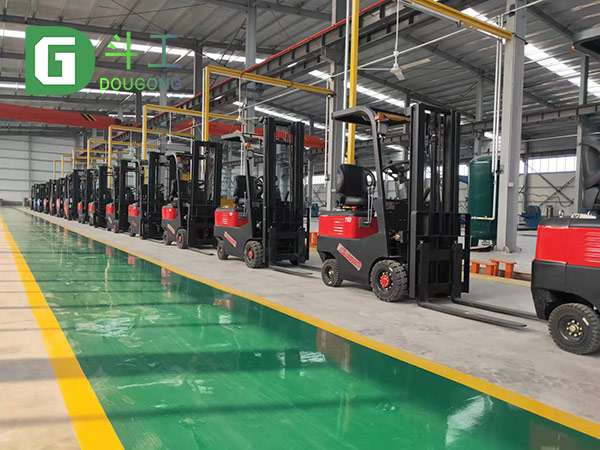 About Dogon forklift
Dogon group is a professional forklift manufacturer and supplier, with production bases and research and development centers. Our company has a professional R&D technical team with almost 20 years of experience. We are specialized in electric forklift (battery forklift), diesel forklift, producenon-road diesel engines, grass grabbers, loaders, agricultural machinery, etc. K series 3 ton forklift and 3.5 ton forklift for sale are popuplar in the market. In addition, the 3 ton electric forklift trucks are also our hot-sale products.
We are an ISO9001-certified enterprise. And our products are widely used in medicine, food, chemical, household electrical appliances, wool cotton textile, tobacco, electronics, machinery, furniture, and many other industries.
Our professional team in designing and producing which can meet different requirements of customers, to support OEM/ODM service, we offer 24 hours online support, to ensure in-time communication. If you are interested in our electric forklift trucks and other types of forklift, get in touch with our team, learn more information and a free quotation today.