Description
Dogon manual transmission forklift diesel 3 ton/3,000 kg is an ideal outdoor materials handling equipment. It's greatly improves the work efficiency with strong power and excellent performance of the manual transmission forklift truck.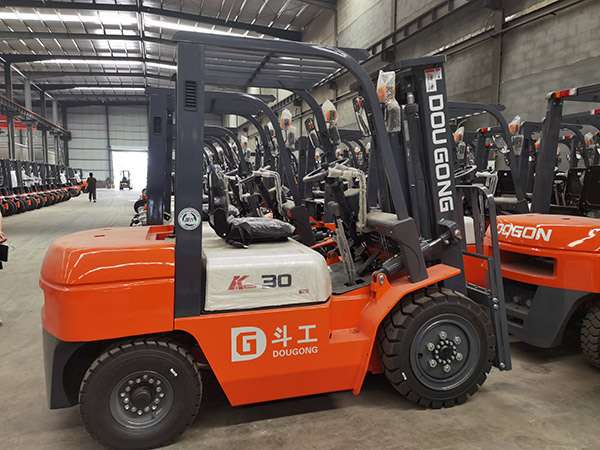 Manual Transmission Forklift Description
High pressure common rail environmental protection engine.
Built-in noise isolating and sealing materials reduce vibration and noise effectively.
80 opening angle of engine hood makes maintenance easier.
The engine hood is easy to open.
The gas spring with automatic lock function ensures the safety during maintenance.
The truck has lower vibration and noise.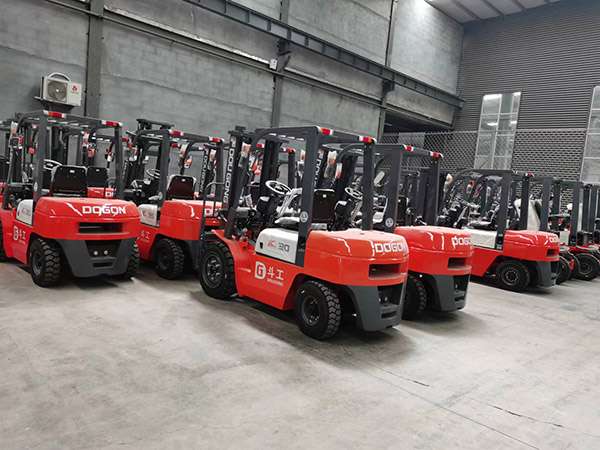 3 Ton diesel forklift specification
Model
CPC30
CPCD30
Power Type
Diesel
Diesel
Rated Capacity(kg)
3000
3000
Load Center(mm)
500
500
Driving Mode
Sit-on Type
 Sit-on Type
Performance
Max Traveing Speeds(laden/unladen)
18/19 km/h
19/19 km/h
Lifting Speeds(laden/unladen)
455/480 mm/s
455/480 mm/s
Lowering Speeds(laden/unladen)
450/500 mm/s
450/500 mm/s
Max Draw-bar Pull(laden/unladen)
17.5/13.4 kN
19.5/15.5 kN
Max Gradeability(laden/unladen)
15%/20%
21%/20%
Size
Max Lifting Height(mm)
3000
3000
Mast Height, Lowered(mm)
2070
2070
Mast Height, Extended(mm)
4250
4250
Free Lift(mm)
160
160
Overall Height(overhead guard, mm)
2095
2095
Min. Ground Clearance(mm)
1350
1350
Seat to Overhead Guard(mm)
1000
1000
Traction Coupling Height(mm)
310
310
Backrest Height(from the fork face, mm)
1227
1227
Overall Length(with/without fork, mm)
3750/2680
3750/2680
Wheel base(mm)
1700
1700
Front Overhang(mm)
470
470
Rear Overhang(mm)
510
510
Overall Width(mm)
1225
1225
Tread(front/rear)(mm)
1000/970
1000/970
Distance Across Forks(max/min, mm)
1060/250
1060/250
Min. Turning Radius(external, mm)
2400
2400
Min. Turning Radius(internal, mm)
200
200
Min. Right Angle Aisle Width(mm)
2380
2380
Mast Tilt(deg)
6/12
6/12
Fork Size(mm)
1070×125×45
1070×125×45
Product features
20% reduction in vibration
3dB noise reduction
45% more workspace
operator's field of vision increased by 20%
20% increase in work efficiency
Loading capacity increased by more than 5%
Stability increased by 5%
Reliability increased by 40%
Opening angle of the hood increased to 80°
Available Attachment
String rod
Lifting hook
Side shifter
Paper roll clamp
Rotating fork
Cargo boom
Lengthening fork
Multipurpose drum clamp
Rotating flat clamp
Widen fork arm carrier
Lengthening fork extension
Load stabilizer
Load push pull
Tipping fork, tipping bucket
Wide view free-lift mast(two-stage)
Wide view free-lift mast(three-stage)
Why choose Dofon Forklift
* Free Quotes
* Fast delivery
* Available In-Stock
* Affordable Prices
* Have many years of production or foreign trade experience
* Participated in many well-known exhibitions in the industry
* Has its own R&D team
* with ISO & CE certificate, quality guaranteed
* Provide OEM and personalized customization services, etc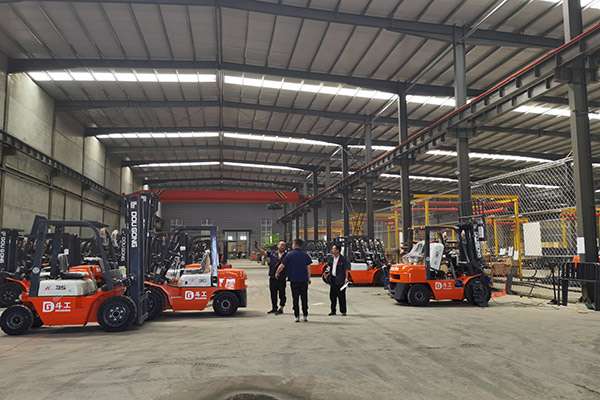 About Dogon Forklift
Dogon (China) Group is a dedicated forklift manufacturer in China. Our company has more than 500 employees, including more than 100 professional technicians, and more than 50 senior and intermediate engineers. Our company will continuously keep product advantages with strict QC systems.
Dogon K series diese forklift product pipeline mainly include 3ton forklift and 3.5 ton fork lift truck. Dogon forklift trucks are very popular with high performance, comfortable operation, excellent quality, and reliable working.
Now our mainly produces diesel forklifts, electric forklifts, non-road diesel engines, grass grabbers, loaders, agricultural machinery, etc. All the forklift trucks can be supplied with necessary attachments for different material handling applications. If you are interested in our products, feel free to contact our team, get moare details and a free quotation.