How to inspect a forklift before using it is easy with this forklift inspection checklist. Simply follow the instructions below and you'll be on your way to operating your forklift safely and efficiently, while also avoiding any accidents that may occur due to neglecting this essential forklift inspection procedure.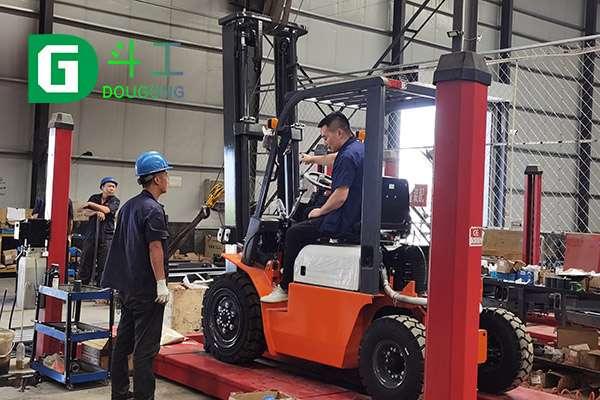 Do you need to inspect your forklift?
Yes, you need to inspect your forklift every day before using it. This is because forklifts are large and powerful machines that can be dangerous if not used properly. By conducting a daily inspection, you can ensure that the forklift is in good working condition and that all safety features are functioning properly.
Has there been recent maintenance?
Before using a forklift, you should always check to see if there has been any recent maintenance done on it. This forklift daily checklist will help you keep track of what needs to be done before using a forklift. If you have an old or broken forklift, consider replacing it. If the brakes aren't working properly, replace them with new ones. Make sure that all parts are in good condition and that the batteries are charged and ready for use.
Safety check your truck equipment.
It's important to safety check your truck and equipment before using it each day. Here's a quick forklift daily checklist to help you remember what needs to be done:
Test operating controls such as brakes, lights, horn, and steering wheel. Make sure the forklift moves freely and that the brakes are working properly.
Check mast and overhead guard for damage
Examine tire and fluid levels (hydraulic, brake, engine, fuel, and coolant). Look for any damage or wear and tear that could affect the forklift's performance.
Check for water, oil, or radiator leaks
Ensure the forks are in good condition (e.g. straight, no cracks, no distortion)
Test the horn and backup alarm.
Look for potential hazards
A sample of detailed daily forklift inspection checklist:
Walk around your workplace.
Before using a forklift, it's important to do a quick walk-around inspection. Here's a forklift daily checklist of what you should look for:
1. Check the fluid levels in the forklift. This includes the engine oil, hydraulic fluid, and coolant levels.
2. Make sure that the tires are properly inflated and that there are no cracks or leaks in the hoses.
3. Inspect the forks for any damage, such as bends or cracks.
Operate your truck safely.
Operating a forklift is not as simple as driving a car. There are many potential hazards that you need to be aware of, and it is important to take the time to inspect your equipment each day before using it. Here is a checklist of what you need to do before operating a forklift.