Description
Get the best deals on 7000 lb forklift from Dogon. We are offering 7000 lb (3.5 ton) diesel forklift with superior quality and good price. Increase your productivity with our reliable and adapted forklift trucks.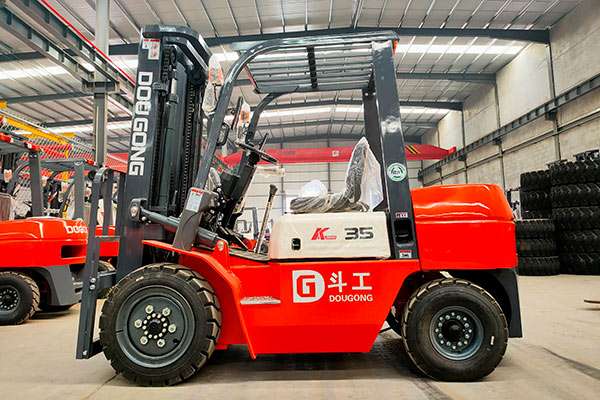 7000 lb Diesel Forklift Description
High pressure common rail environmental protection engine.
Built-in noise isolating and sealing materials reduce vibration and noise effectively.
80 opening angle of engine hood makes maintenance easier.
The engine hood is easy to open.
The gas spring with automatic lock function ensures the safety during maintenance.
Lower vibration and noise.
7000 lb forklift specs/dimensions
Model
CPC35/CPCD35
Power Type
Diesel
Rated Capacity(kg)
3500
Load Center(mm)
500
Driving Mode
Sit-on Type
Performance

Max Traveing Speeds(laden/unladen)
19/19 km/h

18/19 km/h

Lifting Speeds(laden/unladen)
360/380 mm/s
Lowering Speeds(laden/unladen)
350/400 mm/s
Max Draw-bar Pull(laden/unladen)
18.1/13.4 kN

19.6/16.2 kN

Max Gradeability(laden/unladen)
15%/20%
Size

Max Lifting Height(mm)
3000
Mast Height, Lowered(mm)
2180
Mast Height, Extended(mm)
4250
Free Lift(mm)
170
Overall Height(overhead guard, mm)
2095
Min. Ground Clearance(mm)
1350
Seat to Overhead Guard(mm)
1000
Traction Coupling Height(mm)
310
Backrest Height(from the fork face, mm)
1222
Overall Length(with/without fork, mm)
3750/2680
Wheel base(mm)
1700
Front Overhang(mm)
480
Rear Overhang(mm)
510
Overall Width(mm)
1225
Tread(front/rear)(mm)
1000/970
Distance Across Forks(max/min, mm)
1060/250
Min. Turning Radius(external, mm)
2420
Min. Turning Radius(internal, mm)
200
Min. Right Angle Aisle Width(mm)
2400
Mast Tilt(deg)
6/12
Fork Size(mm)
1070×125×50
Standard configuration
Fork
Traction pin
Backward buzzer
Neutral gear safety switch
Overhead guard rain cover
Overhead guard
Air inletting device
Durable tread tyres
Widen fork arm carrier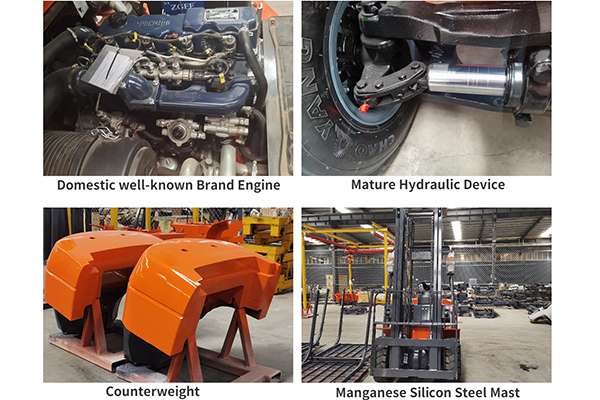 Optional Configuration
Driver's cab
Speedometer
Fire extinguisher
Solid tyre
Rear working lamp
Auxiliary pipeline
Suspension seat
Custom color
Transmission oil temperature gauge
Warm air blower
High air exhausting device
Tilt cylinder jacket
Smart fleet management system
Product features
20% reduction in vibration
3dB noise reduction
45% more workspace
operator's field of vision increased by 20%
20% increase in work efficiency
Loading capacity increased by more than 5%
Stability increased by 5%
Reliability increased by 40%
Opening angle of the hood increased to 80°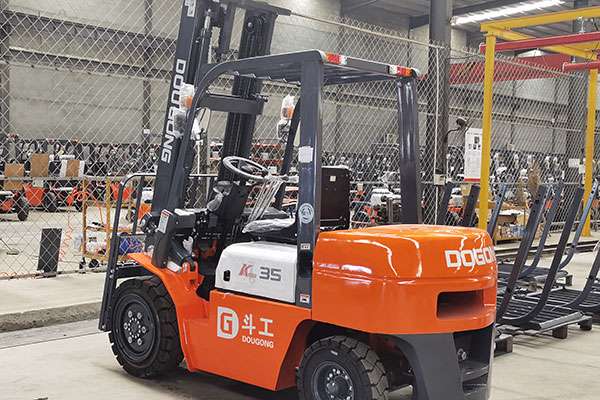 Dogon Forklift After-Sales Services
Professional R&D team
with ISO & CE certificate, quality guaranteed
OEM, ODM and customization services
Free Quotes
Fast delivery
Available In-Stock
Affordable Prices
Have many years of production and export trade experience
Participated in many well-known exhibitions in the industry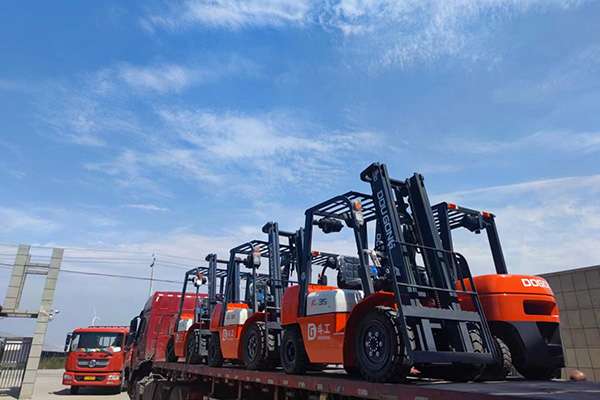 About Dogon (China) Group
Dogon (China) Group is one of the most professional forilift manufacturers and suppliers in China. Dogon forklift provids wide range of high quality solutions for forklifts. K series 3-3.5 ton diesel forklift is our star product line. In addition, the light-duty electric forklift are also popular in the market, such as 1 ton forklift and pallet stacker, etc..
Lift Your Business To Success with Dogon Forklift. For product pricing, customization, or other inquiries, feel free to contact our sales team, and get a free quotation today.