Description
Electric warehouse forklift is designed for cargo handling in factories, distribution centers and warehouses. Electric forklift trucks are widely used in the storage industry because of their flexible movement, light weight and good environmental performance. The 1 ton forklift trucks are very popular in the field of warehousing.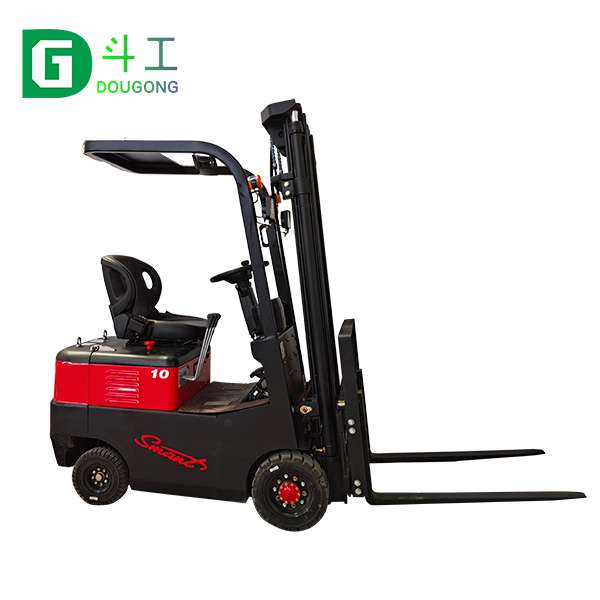 1 Ton Electric Forklift Dimension
| | |
| --- | --- |
| Model | CPD10 |
| Rated Capacity | 1000 kg |
| Load Center Distance | 400 mm |
| Power Mode | Storage Battery |
| Tyre Type | Solid |
| Max. Lifting Height | 3000 mm |
| Free Lifting Height | 80mm |
| Mast Tilt Angle Front/rear | 6-12° |
| Length (fork excluded) | 1640 mm |
| Width | 800 mm |
| Mast Height | 2050 mm |
| Overhead Guard Height | 1900 mm |
| Min. Under Clearance | 90 mm |
| Wheel Base | 1020 mm |
| Min. Turning Radius | 1800 mm |
| Travelling Speed Loaded/Unloaded | 11/12 km/h |
| Lifting Speed Loaded/Unloaded | 220/250 mm/s |
| Gradeability Loaded/Unloaded | 10% |
Motor and Battery
Motor
Drive motor power
3 kw
Pump motor power
3 kw
Battery
Voltage
48V
Lithium battery capacity
120 Ah
Lead-acid battery capacity
160Ah
Product Advantages
Complete vehicle is compact, light and flexible to operate, suitable for operation in narrow spaces, in and out of elevators, and between floors.
The permanent magnet synchronous controller ensures stable and accurate walking and lifting control, excellent speed regulation performance, good motor electronic control matching performance, and has functions such as regenerative braking, reverse braking, and anti-slip on slopes.
Regenerative braking (when the forklift stops, decelerates, reverses direction and goes downhill, the drive motor becomes a generator, and the battery is reversely charged through the controller to save energy).
New large-screen LED meter, with good visibility, intuitive reading, and friendly human-computer interaction interface.
The advantages of muteness and energy saving meet the requirements of environmental protection.
The AC or permanent magnet synchronous power system has high efficiency, complete protection functions, and has its own speed sensor and temperature sensor, which greatly improves the stability and life.
Optional: The new concept design of removing the battery from the side does not need to lift the battery from the gap at the top of the roof guard, which can better replace the battery, and is suitable for heavy-duty, continuous work and other high-intensity conditions.
Why choose Dogon?
Professional R&D team
with ISO certificate, quality guaranteed
OEM, ODM and customization services
Free Quotes
Fast delivery
Available In-Stock
Affordable Prices
Have many years of production and export trade experience
About Dogon Forklift
Dogon (China) Group is the top forklift truck manufacturer and supplier at the best price in China. Our lift turcks are designed for materials handling in warehouse, factory, construction site, logistics center, etc. After nearly 20 years of development, our company has more than 500 employees, including more than 100 professional technicians, and more than 50 senior and intermediate engineers.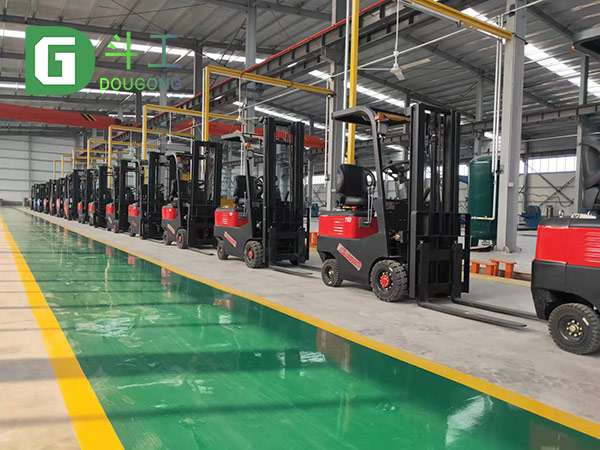 Our mainly products include diesel forklifts, electric forklift truck, grass grabbers, loaders, non-road diesel engines, agricultural machinery, etc. K series diesel forklift trucks are very popular in the market. Our K series diesel 3 ton forklift and 3.5 ton forklift for sale are our best selling products. In addition, the ligh-duty electric forklifts are also very popular, such as this 1 ton forklift.
Dogon fork lift trucks are renowned for outstanding efficiency, safety, reliability. For more information and price list, get in touch with our team. Select high quality forklift in best wholesale price from Dogon.