Description
Dogon 3 ton electric forklift truck for sale. Different from traditional diecel forklifts, our electric forklifts are less noisy and more environmentally friendly, so they are more suitable for use in indoor. The electric forklift produced by Dogon adopts excellent electric motor control, strong power and simple structure, and the energy consumption is reduced by 20%. Our new electric battery forklift 3 ton with four wheels is suitable for handling materials in warehouse.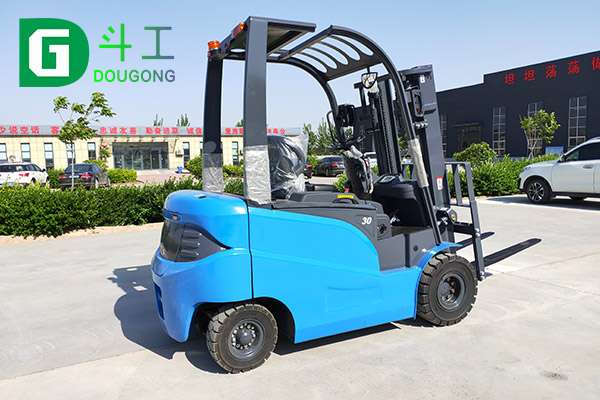 3 ton electric forklift specifications
| | |
| --- | --- |
| Model | CPD30 |
| Rated Capacity (kg) | 3000 |
| Load center distance (mm) | 500 |
| Power mode | Battery |
| Tyre type | Pneumatic |
| Max. Lifting height (mm) | 3000 |
| Free lifting height (mm) | 145 |
| Mast tilt angle front/rear | 6°/12° |
| Length (fork exclude, mm) | 2650 |
| Width (mm) | 1270 |
| Mast height (mm) | 2020 |
| Overhead guard height (mm) | 2205 |
| Min. Under clearance (mm) | 115 |
| Wheel base (mm) | 1680 |
| Min. Turning radius (mm) | 2380 |
| Travelling speed loaded/unloaded (km/h) | 15/16.5 |
| Lifting speed loaded/unloaded (mm/s) | 330/450 |
| Gradeability loaded/unloaded (%) | 15 |
Motor & Battery
Motor
Drive motor power (KW)
16.5
Pump motor power (KW)
13.5
Battery
Voltage (V)
80
Lithium battery capacity (Ah)
450
Lead-acid battery capacity (Ah)
500
Note: Performance can be customized according to customer needs.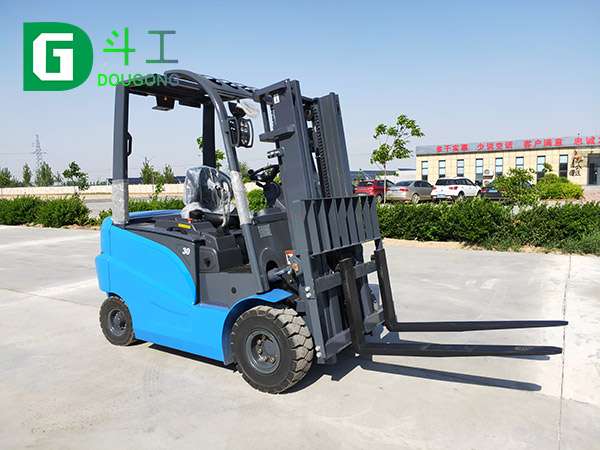 3 ton electric forklift parts
The electric 3ton forklift mainly consists of power unit, transmission, steering device, working device, hydraulic system and brake device.
Product advantages
Complete vehicle is compact and simple in appearance, and the exposed parts are made of environmentally friendly overall stamped metal materials;
Adopt excellent electric motor control, strong power and simple structure, and reduce energy consumption by 20%;
Select lithium iron phosphate battery, each unit has a BMS management and protection device to ensure the use of lithium battery, high voltage design, and increase power utilization efficiency;
Intelligent sensing of descending buffer, when the fork is 100-60mm away from the ground, the descending speed will automatically slow down, so that the goods and pallets do not hit the ground, and the goods and the ground are better protected;
Regenerative braking (when the forklift stops, decelerates, reverses direction and goes downhill, the drive motor becomes a generator, and the battery is reversely charged through the controller to save energy);
The new large-screen LED instrument has good visibility, intuitive reading and a friendly human-computer interaction interface;
According to the ergonomically designed steering wheel, the inclination angle can be adjusted up and down, the seat can be adjusted forward and backward by 150mm at the same time, and the operator can choose a comfortable driving position.
The optional lithium battery is guaranteed for 5 years or 10,000 hours.
Optional: The battery is removed from the side. It is not necessary to lift the battery from the gap at the top of the roof guard, which can better replace the battery. It is suitable for heavy-duty, continuous work and other high-intensity conditions.
Attentions
Only trained and licensed drivers can drive this forklift.
Check all controls and alarms before driving. If damaged or defective, it must be repaired before operation.
When start to drive the 3-ton electric forklift, ensured the cargoes are lowered and the mast frame is inclined backward.
Stable starting, steering, driving, braking, and parking are essential. When driving the electric counterbalance forklift on wet or slippery roads, we need to slow down when turning.
Material handling should not exceed specified loads. The forks should be inserted under the cargo so that the cargo is evenly distributed on the forks. The use of a single fork to pick goods is prohibited.
About Dogon Forklift
Dogon (China) Group is a large joint venture group company, which specializes in the research and development, production and export of forklifts, loaders and other material transport equipment. We have the rugged and reliable lift truck equipment to help you get your job done right.
Our company has more than 500 employees, including more than 100 professional technicians, and more than 50 senior and intermediate engineers. We can supply different classes of forklifts. Now our company mainly produces diesel forklifts, electric forklifts, non-road diesel engines, grass grabbers, loaders, agricultural machinery, etc.
The forklift prices vary depending on the type of forklift and corresponding configuration you need. Explore excellent online prices if you plan to buy your next electric forklift 3 ton from China, get in touch with our team to learn more details and get a free quotation today.